Variable Printing - VDP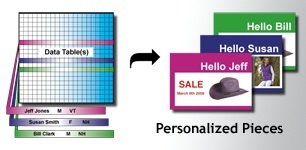 Variable printing (VDP) is unique process that customizes every printed piece based upon custom data and images. This process enables you to perform one-to-one marketing and provide personalized pieces for each recipient.
Variable printed pieces that speak directly to the individuals needs can increase your return 10 to 15 times over a non-personalized piece. Contact us, we are experts in variable printing and have been delivering results for years.
We offer the following variable printing services:
• Variable data and image design services
• List, data and image processing services
• Color and BW high-speed digital printing
• Complete bindery services
• Professional pre-press services
Our customers have us produce:
Brochures, Appeal Mailings, Fliers, Postcards, Direct Mail Packages, Cards, Calendars, Product Materials, Invitation Packages, and other customized one-to-one marketing pieces.